Blackberry Vinegar + 3 Recipes to Use It In
Blackberry vinegar is a beautiful way to preserve a summer bounty of berries!
Learn how to make blackberry vinegar, then three ways to use it in a tasty fruit dip, main dish meal, and homemade salad dressing.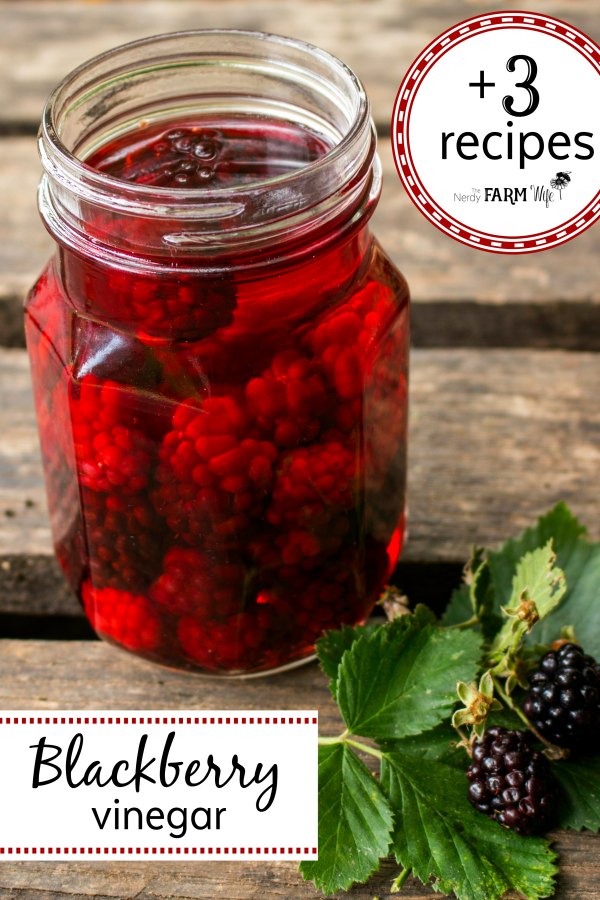 I've been on a vinegar making roll lately! Infused vinegars turn out so pretty that I can't help but want to share them!
All of the recipes in this post were adapted from a wonderful library book, Herbal Treasures by Phyllis V. Shaudys.
It's an older book, but full of so many timeless herbal ideas. I borrowed it from the library multiple times, before finding copies available HERE on Amazon.
Making blackberry vinegar is super easy!
How to Make Blackberry Vinegar
Fill a jar about 3/4 full of blackberries.
Pour vinegar over the berries, almost to the top of the jar.
You can use room temperature vinegar, or gently heat it to a simmer to speed up the infusing process.
Cover the jar with a plastic lid, or place a layer of plastic wrap between a metal lid and the vinegar to avoid corrosion.
Tuck it in a cabinet for 3 to 4 weeks.
Strain through a coffee filter or cheesecloth to get small bits of sediment.
Store in your refrigerator for around 6 months after straining.
Or, process in a water bath canner for 10 minutes, to extend shelf life to one year.
I use white wine vinegar, since I intend this for culinary use.
Red wine vinegar can also be used, or you could use apple cider vinegar if you'd like.
I bought those beautiful Ball sharing jars from my local Walmart. (More details about them HERE at Ball's website.)
Now that you've made blackberry vinegar, you'll want to put it to good use! Below are three recipes to use blackberry vinegar in.
3 Recipes That Use Blackberry Vinegar
Blackberry Vinegar Fruit Dip
My kids love this fruit dip, though my daughter likes it made with a little less honey than I list here. (Everyone else likes this amount of honey though.)
1 cup plain yogurt
3 tablespoons of honey
3 tablespoons of blackberry vinegar
Mix together and keep refrigerated. Serve with fresh fruit.
Blackberry Vinegar Sauced Pork Chops
The sauce in this dish is sooooo yummy and delicious over mashed potatoes.
Definitely taste before adding extra salt & pepper. Between the broth and the vinegar, I found it flavorful enough that additional salt wasn't needed.
4 pork chops (chicken would probably work too)
1 1/2 tablespoons of unsalted butter
1 1/2 tablespoons of oil
6 tablespoons of blackberry vinegar
3/4 cup chicken or beef broth
1/2 cup heavy cream
Brown pork chops in butter & oil in skillet. Add broth and vinegar, stir. Simmer chops, ten minutes on each side, remove & keep warm. Raise heat and boil about five minutes or until thickened. Add heavy cream and stir until desired thickness is reached. Pour over chops and serve immediately.
Blackberry Vinaigrette
This homemade dressing is a tasty way to jazz up a summer salad!
5 tablespoons berry vinegar
1/2 cup oil
2 tablespoons minced shallots (I used onions, on hand)
1 teaspoon dijon mustard
1 teaspoon honey
pepper
Mix together, chill. This keeps about two weeks in your refrigerator.
If you enjoyed this Blackberry Vinegar Tutorial + Recipes, let's keep in touch!
Subscribe to my newsletter and receive my latest herbal projects, natural soapmaking ideas, and DIY body care recipes sent straight to your inbox two to four times per month.
You may also like:
Rose Petal Vinegar | Violet Flower Vinegar | Lavender Vinegar