10 Things to Make with Sunflower Petals
Learn how to harvest, dry, and use sunflower petals in DIY projects.
Make your own sunflower salve, oil, soap, lip balm, lotion bars, and more!
Sunflowers (Helianthus annuus) are the quintessential flower for late summer and fall.
Not only do they provide seeds and nectar for birds and insects to enjoy, plus beautiful flowers to admire, but the flowers are also "reported to possess strong anti-inflammatory and antioxidant activity", and be protective against UVB-induced photoaging. (source)
You can channel those wonderful benefits by using unsprayed sunflowers grown right in your home garden, or purchased from the farmer's market or local flower farm!
Some links on this site are affiliate links; I only recommend products I personally use and enjoy. As an Amazon Associate, I earn from qualifying purchases.
Drying Sunflower Petals
Some of the projects below require dried petals. Here's how you dry sunflower petals:
Gather fresh petals from sunflower heads. I always leave a few petals on each plant to keep attracting bees and butterflies – they love feeding on the centers!
Bring the petals inside and spread them out in a single layer over a screen, paper towel, or sheet of wax paper.
Allow them to air dry for several days. Store in a brown paper bag or a jar out of direct sunlight, which will fade them.
Keeps for one year or until the color fades.
For more information, check out my article:
How to Harvest & Dry Flowers & Herbs from Your Garden
1. Sunflower Petal Infused Oil
Sunflower petal infused oil can be used to make salves, lip balm, body butters, beard oils, hair care products, lotion bars, soaps, and more!
Ingredients you will need:
Add the dried herbs plus the oil to a heatproof canning jar and infuse in one of the following ways:
For a quick infusion:
Set the uncovered jar down into a saucepan containing a few inches of water, forming a makeshift double boiler of sorts. Place the pan over a low burner and heat for around 2 or 3 hours. Don't allow the water to evaporate out of the pan, and monitor the oil while it's heating.
Remove from the heat and strain out enough oil for your recipe when needed. You can top off the jar with more oil and allow it to continue infusing the slow way until needed again.
For a slow infusion:
Instead of infusing over heat, put a lid on the jar and tuck it away in a cabinet or on a shelf and let it steep for at least 4 to 6 weeks, shaking occasionally as you remember to.
Shelf life and storage of infused oil:
Strain and store any remaining infused oil in a dark spot or cabinet out of direct sunlight and heat. Shelf life should be about 1+ year.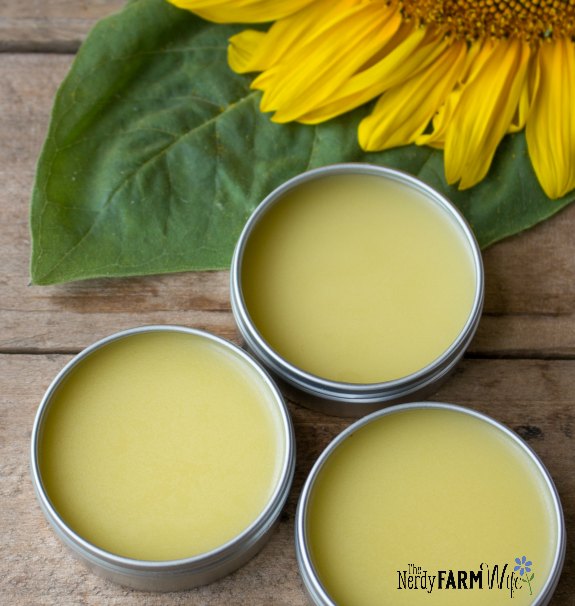 2. Sunflower Petal Salve
This skin soothing salve is perfect for smoothing over dry, chapped, or damaged skin.
Sunflower oil is especially useful for sensitive or damaged skin, while beeswax thickens the oil into a salve-like texture and helps your skin retain moisture.
(Use the directions above to infuse sunflower oil with sunflower petals.)
Ingredients You'll Need
* To make a vegan variation, replace the beeswax with 0.25 oz (7 g) candelilla wax.
How to Make
Combine the oil and beeswax pastilles into a heatproof container, such as a glass canning jar, or for easier cleanup, an upcycled tin can.
Set the container of oil and wax into a small saucepan containing several inches of water, forming a makeshift double boiler.
Place the pan over a medium low burner and heat until the wax is melted.
Remove from heat and let cool a few minutes before pouring the hot salve into tins or glass jars.
Once the salve has cooled, cover the tins or jars with their lids.
Yield: about 4 ounces of salve
Shelf Life: about 9 months to 1+ year

Subscribe to the Monthly Maker and receive:
Build Your Own Salve eGuide
18 Herbs & Flowers for Salves Chart
Salve Building Printable Worksheet
A Monthly Email with Natural Project Ideas
By subscribing to our newsletter, you agree to the terms of our privacy policy.
3. Sunflower Cold Process Soap
I love using sunflower infused oil when making soap! I have two recipes on my website for sunflower soap:
Sunflower Soap Recipe (shown in the photo above) – is naturally colored with lemon peel powder and scented with a citrus blend of essential oils.
How to Create Custom Soaps from a Single Recipe – which includes a sunflower oil variation that's naturally colored a more vivid shade of yellow with sea buckthorn oil.
4. Sunflower Infused Melt & Pour Soap
Sunflower petals create a stunning yellow in clear melt and pour soap base. The color will last for ages too. I've found that sunflower infused melt and pour soap holds its color for well over a year!
To view the directions, please visit my article:
Sunflower Infused Melt and Pour Soap
5. Sunflower Jelly
Sunflower jelly was a happy experiment I first made about 8 years ago and have enjoyed in the years since as a specialty item for my pantry.
I usually make a half batch which gives me one jar to enjoy while the sunflowers are blooming, and another jar to pull out during the grayest days of winter.
You can find the full directions in my article, Sunflower Jelly.
6. Sunflower Sugar (or Salt)
Sunflower petals (and other fresh flowers and herbs) can be blended with sugar or salt, for use in scrubs and bath soaks.
Please see my article: Naturally Colored Decorating Sugar (Using Edible Flowers) for more details.
To make the scrub below, you will just need:
1/4 cup granulated sugar
about 1/8 cup fresh sunflower petals
Place the sugar and sunflower petals in a mini food processor and blend until evenly mixed.
Spread out on in a thin layer on wax paper and allow to dry overnight.
Store in a small glass jar out of direct sunlight, or use in the scrub recipe below.
7. Sunflower Honey Scrub
This cheerful scrub features the sunflower sugar from #6 above plus a few drops of sweet orange essential oil for a fresh clean scent. A small touch of honey helps soften and smooth dry skin.
abt 1/4 cup (abt. 72 g) dried sunflower sugar
1/2 tsp (2.5 ml) honey
1 to 2 tbsp (15 to 30 ml) sunflower infused oil
2 to 3 drops sweet orange essential oil
3 grams Phytocide Elderberry OS (a naturally sourced preservative for oil-based products)
Combine all ingredients thoroughly. Store in a small jar, using a spoon to scoop out as needed.
To use, rub a small amount on your hands and other dry areas such as knees, elbows and feet. Avoid using on sensitive areas or broken skin.
Rinse well with warm water. Be careful if using in a tub or shower as the oil can make the floor slippery.
Use within 2 to 3 weeks.
8. Sunflower Lip Balm
Sunflower lip balm is easy to make and perfect for smoothing over dry chapped lips.
For a vegan lip balm recipe that features sunflower wax:
Please visit my article Sunflower Lip Balm (Using Vegan Sunflower Wax).
For a beeswax-based lip balm:
Combine the oils and wax in a heatproof jar or upcycled tin can. Set the jar into a saucepan containing a few inches of water, forming a makeshift double boiler. Heat over medium-low heat until the wax is melted. Remove from heat, let cool a couple of minutes, then stir in the essential oil. Pour into lip balm tubes. The recipe makes roughly 12 to 14 tubes of lip balm.
For more lip balm ideas, check out my article:
How to Make Your Own Lip Balm Recipes
9. Sunflower Petal Vinegar Rinse
Sunflower's conditioning properties makes it stellar to include in hair care products.
Vinegar rinses are used after shampooing your hair. They help to restore pH, remove shampoo residue, soften hair and leave it shiny, and can be beneficial for flaky scalp conditions.
To make the sunflower vinegar:
2 cups apple cider vinegar
1 cup coarsely chopped and loosely heaped sunflower petals
Combine the vinegar and herbs in a jar. Cover with a non-reactive lid and tuck in a cool dark spot for about 2 weeks. Strain.
To make the hair rinse:
Combine 1/4 to 1/2 cup of infused vinegar with 1 cup of water. Pour the diluted rinse over your hair and scalp after shampooing. Rinse lightly with lukewarm or cool water.
For a more convenient alternative, you can fill a small spray bottle with the undiluted vinegar and store it in your shower. Spritz it all over your scalp and hair after shampooing then rinse with plain water.
10. Soothing Sunshine Lotion Bars
These delightful lotion bars are made with a multi-flower infusion, including sunflowers.
Use them to smooth over rough chapped hands, feet, and other dry spots on your skin.
To make them, you'll need:
sunflower infused sesame (or other) oil
shea butter
cocoa butter
beeswax
fractionated coconut oil (or more infused oil)
Hop over to my article: Soothing Sunshine Lotion Bars – for the full recipe.